The kids and I loaded the car and headed out for a few days. We sort of knew what we were going to do, but the rest of the trip wasn't planned out. I love that kind of trip! We had a great time seeing several grandparents, attending the Summer Games, eating yummy food, visiting an orchard, (my first time ever) watching fireworks, making homemade rootbeer, and lots of other fun things. It was a fun trip. Oh ya, have to throw in there that we made our usual trip to the doctor. C ended up getting a baterial eye infection in both eyes. Poor kid, did NOT look right, so I took him in. After a couple days of eye drops, I'm happy to say that he's looking more like my son.
My cousin taught me how to make her Vietnamese eggrolls. They're to die for.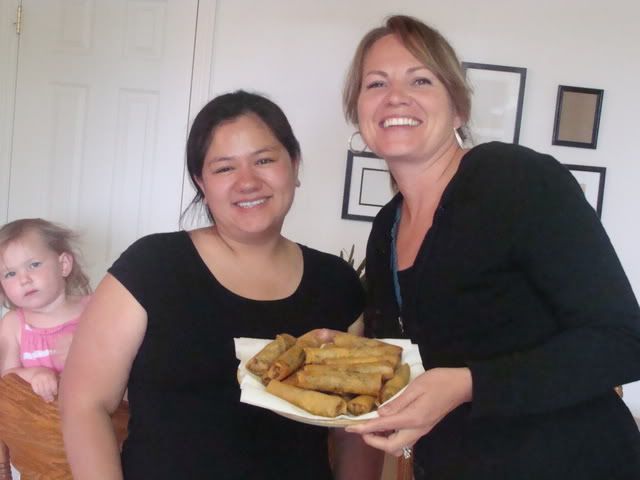 My grandma made pancakes for us one morning.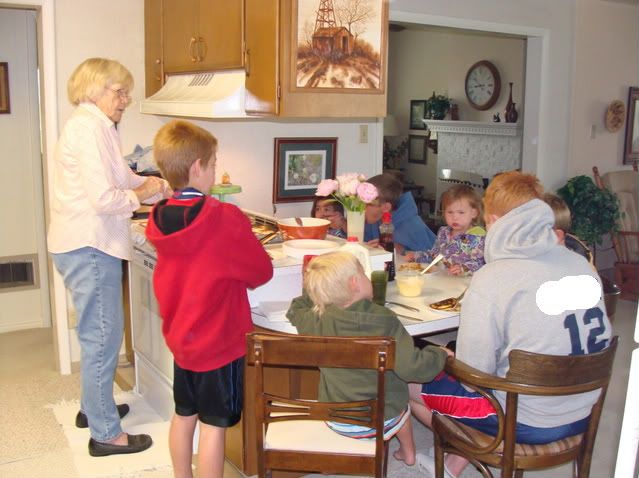 The four big boys ran a 5k along with my brother, three sisters, nephew and brother-in-law.
The kids eating the best breadsticks in the world. Thanks Pizza Factory.
I had to get a picture of the spray paint that wasn't locked away. Too funny.
Me with my grandparents. I've got my cute grandma's nose.
Surely there really wasn't a change box inside to pay for my cherries. There really was! I laughed and laughed and had to run and get my camera.
I have to say I liked the small towns that we visited. There's a lot to do there. Which is funny, because you'd think the opposite.
It was definately a road trip. I was waking the kids at 5:30 and 6:00 and throwing them in the car racing back and forth from town to town. Some nights we'd pull in as late as 11:00 but it was great! Makes me happy.
For more pictures of our trip, or "moments of joy" as I'm calling them, go
here
.